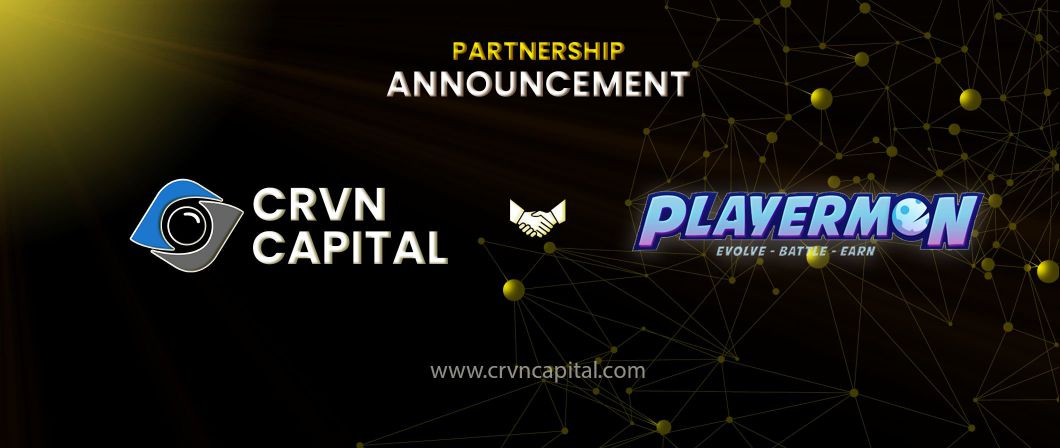 PARTNERSHIP ANNOUNCEMENT – CRVN CAPITAL X PLAYERMON
NFT games are the phenomenon of 2021, especially when combined with the metaverse – the digital universe, created by virtual reality (AV), augmented reality (AR) and the Internet. CRVN Capital realizes this trend will also overwhelm the Crypto community in the next few years. That is also the reason for the cooperation relationship between CRVN Capital and Playermon – a play to earn NFT game projects carefully built by an experienced team. As part of the cooperation agreement, CRVN Capital will support Playermon not only with financial resources, but also marketing strategy to give wings to Playermon's ideas to succeed soon and launch to the community as soon as possible.
About PlayerMon
Playermon was conceptualized to become the next leading play-to-earn NFT game in the blockchain game industry through a 10-year roadmap with focus on growth and long-term stability. It is a boundless play-to-earn NFT game where anyone can explore and battle in the universe with their favorite space companions called Playermons. This is a game that is accessible to everyone with low entry costs, and provides the ability to generate income based on creativity and "playformance". This project aims to empower the Playermon community of creators, players, and investors.
About the gameplay, this project will initially provide a Tamagotchi-like experience where a player can feed, play and bathe his/her Playermons. It will also come up with another game within the game that uses a turn-based card gameplay system. All players need to form a team with 3 Playermons. Strategically, the placement of Playermons can provide an advantage over the opponent. The winner will gain token rewards and the Playermons will gain experiences.
Learn more about Playermon
Official website: https://playermon.com/
Whitepaper and deck(Links) https://whitepaper.playermon.com/