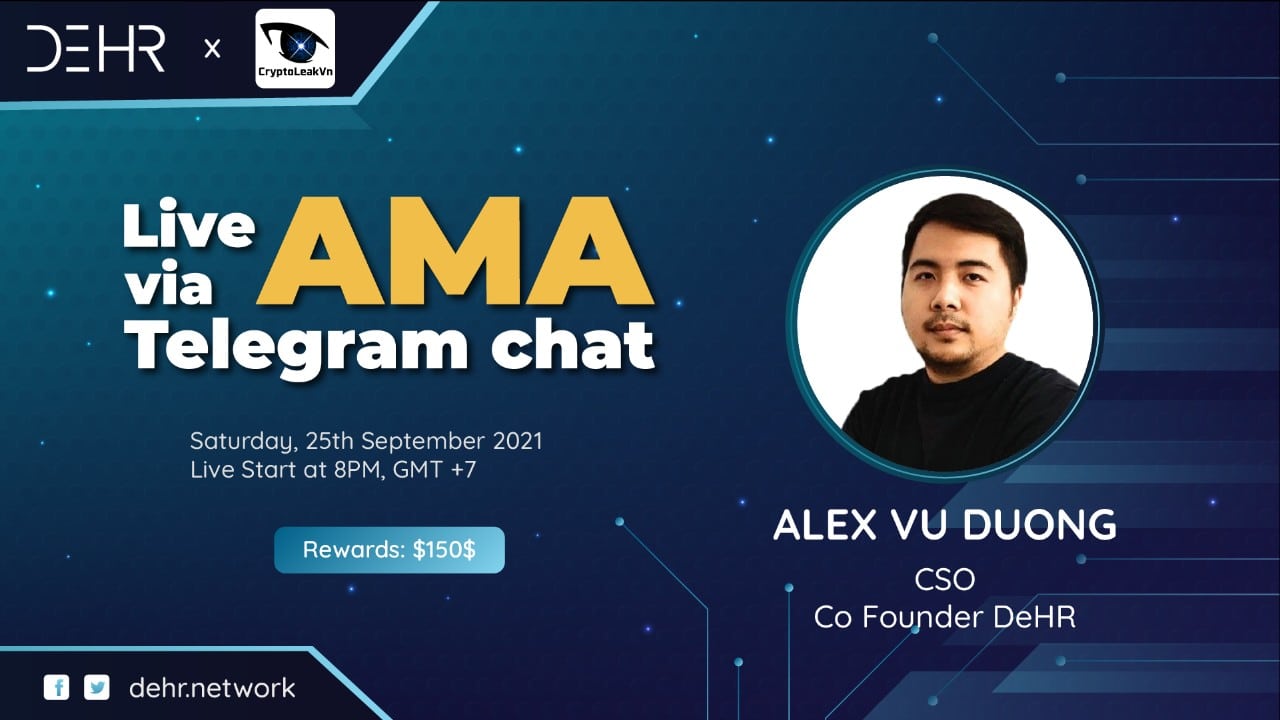 Recap: AMA Cryptoleakvn X DeHR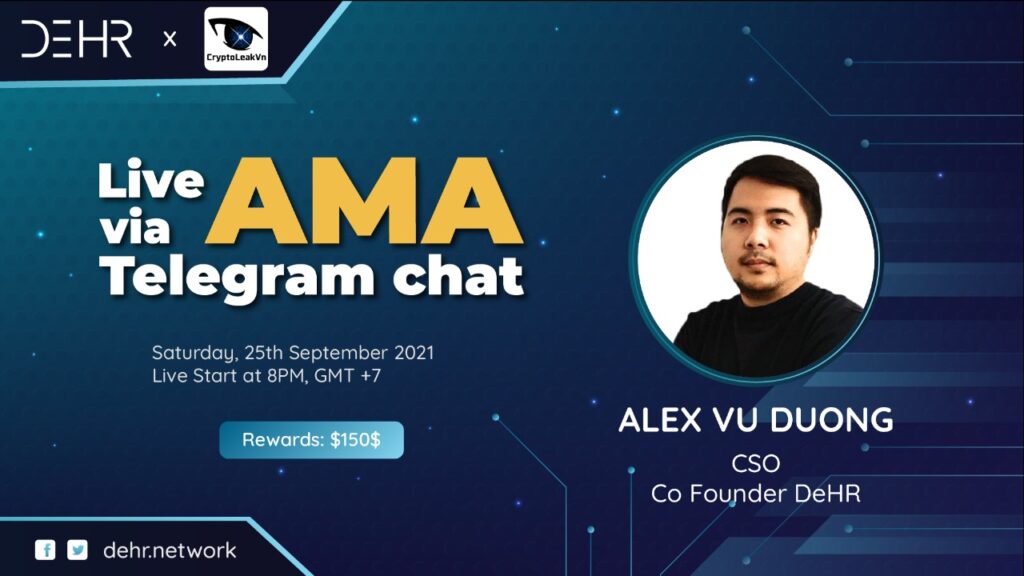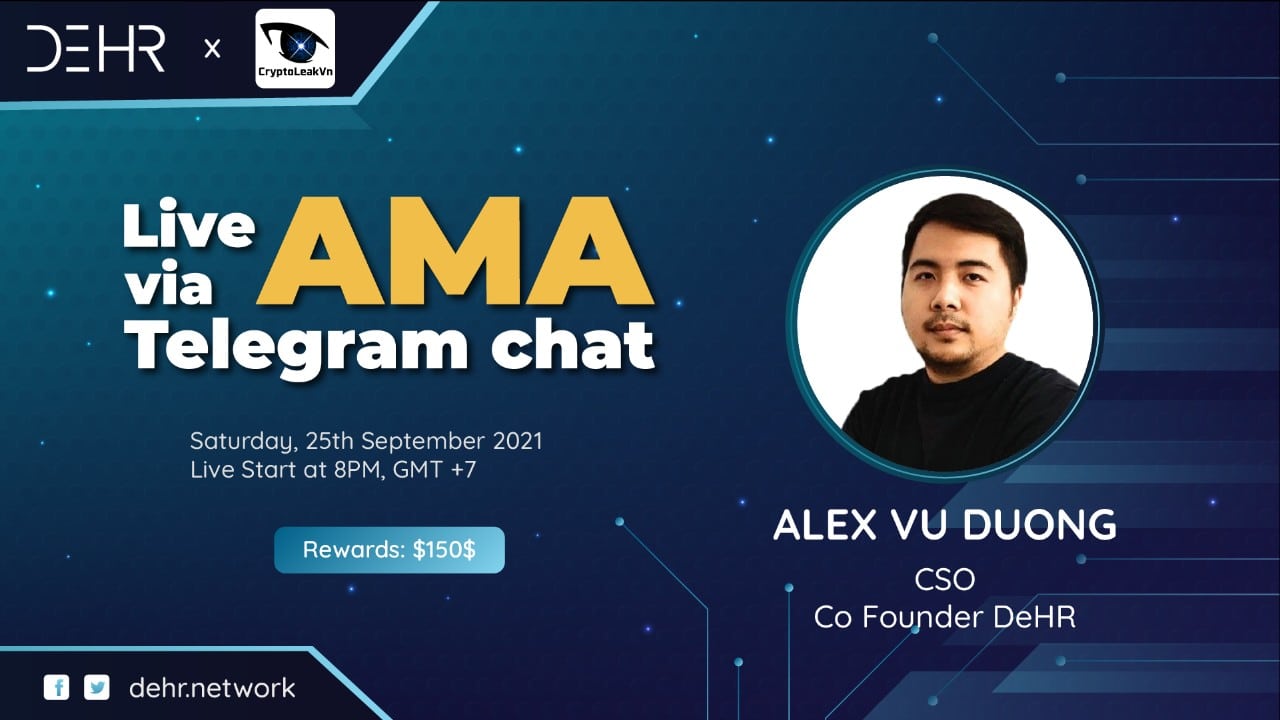 On the 25th of September at 8 pm, CryptoLeakVn has operated an AMA event through the Telegram channel with CSO, Co-Founder of DeHR, Mr. Alex Vu Duong. DeHr provides a 3.0 platform where employers can directly connect with talents to share information by applying Blockchain technology to the Human Resource sector.
This event not only remarked the long-term partnership between CRVN Captial and DeHr but also allowed Crypto investors to communicate with Mr. Alex as a way to understand more about the vision, mission as well as how DeHr utilizes Blockchain technology for better outcomes of the HR industry.
Hosted this event is Mr. Vu Hoang Dong Hai, a representative of CryptoLeakVn, with the participation of more than 3,300 members of the CryptoLeakVn community. The main session consisted of 3 parts:
Part 1: Project overview questions
Part 2: Additional questions from Twitter and AMA attachment form.
Part 3: 5 random questions from viewers which will be answered through the CryptoLeakVn community.
Part 1: Overview questions
In the beginning, Mr. Alex Vu Duong shared his background and the journey that brought him to Crypto as well as the story about DeHR:
"Alex Vu has been working in the retail, finance & international business for more than 15 years. Having been involved with Blockchain and Crypto since 2017, Alex and his associates realized the great potential of Blockchain & Crypto that could be applied to traditional business models. Hence, at the beginning of this year, Mr. Alex decided to collaborate with Mr. Vince and Mr. Victor to establish DeHR with the determination to create a business model that can reach out to the world. After 8 months of investment, the company has recorded many achievements from the Vietnamese and international community"
DeHr's vision and mission
It is our mission to become "a global system of HR services on a decentralized platform", which supports the recruitment, learning, training, organizational, development activities for many businesses. DeHr will also focus on the "globalization" that aims at blockchain. Furthermore, DEHR is trying to build protocols that help "data users" and "data owners" to transact and interact easily with each other, without involving any third party.
DeHR's vision in the next 1-2 years is to focus on building a recruitment platform under the philosophy of "removing the boundary between job seekers and recruiters" and going global.
Why did DeHR decide to apply Crypto as a solution for the HR industry?
DeHR's medium-term goal is to provide a specialized HR solution but the long-term vision of DeHR is to develop a solution for today's Data Governance. Currency, laws are very different in each country, which creates a remarkable barrier to the payment process all over the world if the demand for human resources increases due to globalization. But digital assets are borderless and may become the ultimate solution, therefore, DeHR decided to adopt Crypto technology because it is the only asset that can be used worldwide without any border.
DeHR's target market
With the application of Blockchain to the HR sector, DeHR wants to expand not only in Vietnam but also to cover the network worldwide. Currently, more than 80% of DeHR's advisors and investors come from developed countries like the EU and the US.

Besides recruiting sector, DeHR also aims to deploy all solutions for the Human Resources industry, creating a huge data transaction center that is not only for job seekers.
DeHR's target audience includes:
Undergraduate and post-graduate students who are looking for jobs and promotion chances at companies
People who work from home, part-time, or on a project basis.
Small and medium companies to multinational corporations.
Educational institutions, universities, training centers.
How DeHR solves the problem of personal data security
DeHr tries to take full advantage of Blockchain's strengths. Every day, users update much personal information on LinkedIn, FB, social networks, and this information is known as off-chain data (i.e. public personal data). In addition, there will be confidential information stored on computers and phones such as phone numbers, identification numbers, payslips.
So DeHR brings on-chain data that users can store in a secure blockchain. DeHR's on-chain data will not be stored and will be deleted as soon as it reaches the on-chain. DeHR will apply Apply ISO 27k series, GDPR to 3rd parties and encrypted with the recipient's public key so no one can read this data except the key holder.
In short, DeHR's solution to combating HR data leakage and tampering is:
DeHR + Blockchain = Decentralized Data Marketplace (no one keeps data other than the owner).
The importance of community to the DeHR project.
DeHR was established with the purpose of helping communities in general and each member of the community can find suitable jobs through Crypto solutions that DeHR provides, specifically here is DeHR Token.
What is DeHR Token? DeHR allocation plan
The DEHR token is a KRC-20 utility token issued on the Kardia Blockchain, which plays an integral role in the ecosystem.
There are 2 special points in the metrics of DeHR:
Marketing / Community is the pool used to pay rewards to early users when participating in the DeHR network such as uploading profiles, performing confirmation missions, writing reviews, checking in daily on the application.
The ecosystem is the pool used for the Governance voting mechanism of DeHR User holders. Tokens from this pool will be selected to make investment decisions such as building new features, marketing programs, airdrops, or launching centralized and decentralized products later.
Pool MKT, Ecosystem are all designed for the community
DeHR directs the community to the new trend "Connect to earn"
DeHR's Economics will create a new trend "Connect to earn" through activities such as finding a job, confirming friends, writing recommendation letters. In order to make the DeHr "Connect to earn" economic model understandable, Mr. Alex Vu took an example as follows:
"Now anyone who applies for a job through headhunting will also see it. You give them your information and they will sell your information to companies willing to pay. So why don't we set a price for our phone number or email so that recruiters can connect to pay directly without going through any third party, if you value your resume at 10,000 VND and there are 5 recruiters consider it, means you will earn 50,000 VND per day"
DeHR's private sales program
Up to now, Private sales have sold out 80% of it, including:
40% are Global Venture & Community with expertise in HR, data, AI & crypto
30% is VN Venture & Community including VNDC, Mayor, Wildcat, Kardia Venture, and there will also be a big surprise for the community to be announced soon with a backer who has a set of potential users for DeHR with a vision of over 1 million records.
The remaining ​​are crypto retail, banking, insurance & ambassador leaders who help DeHR deliver the "Connect to Earn" model.
DeHR's upcoming milestones

Week 4 of September: Release of MVP version
Week 1 of October: Unique Staking Program Launching
Week 1 and 2 of October: Global Community Shill
Week 3 and 4 of October: IFO (DeHR will officially announce the detailed IFO event 3 weeks before), IDO will execute on KAIDEX right after IFO completion
November and December: Launching on Pancakeswap and Beta release
Part 2: Additional questions
Question 1: How can DeHR balance the tokens open for employees?
The increased price for DeHR will not be based on employer demand when upgrading VIP. DeHR's Economics will be a data exchange where Recruitment is just the first step, then there will be learning, training, business improvement, market reporting.
Data source through the reward mechanism of Connect To Earn
The demand to buy DeHR will come from companies who need recruitment, in addition will also come from Users, who buy DeHR token for the Unique staking mechanism that DeHR built to help you Earn more.
The demand to use DeHR token to buy data to be able to connect to a wider network for their daily needs.
Question 2: Will DeHR have the strength to become a monument of Vietnam in the human resources industry?
DeHR will actually find solutions for the global HR market, not just focusing on the Vietnamese market.
On the DeHR platform, each person's data, personal information as well as personnel information will be connected, shared and exchanged. This platform is committed to security, transparency and convenience when eliminating intermediaries.
This will create a connection protocol global market for data that not only connects employers and job seekers most effectively, it also brings income directly to data owners. You will have the opportunity to find work internationally, increasing opportunities and experiences for users.
Question 3: What role does NFT play? And what is DeHR's NFT orientation in the HR industry?
DEHR's orientation towards NFT technology is to be more practical and applicable to each person than the current NFT trend. As you can see, each person their unique ability and unique information
For example, when you go to school or go to work, you will have your own "unique" degrees, certificates or experiences. Therefore, DEHR is a collection of NFTs of each person, forming a complete profile. In the future, NFT will be seen in a different, more real, closer application direction.
In addition, with the vision of a Data marketplace, DEHR will be a place where you can apply NFT to other departments of the Human Resources industry, such as special classes or very exclusive videos of famous business leaders in the world. Those cool features will be targeted by DEHR in the future, especially when the Learning & Development segment is introduced into the application.
Thus, DEHR's vision of NFT application in HR will be broad, practical and long-term, creating a diverse and interesting ecosystem for users.
Question 4: DeHR's staking mechanism, is it necessary to staking with other coins to get the best results?
DeHR will be a much different staking program than another existing one. Usually traditional staking operations as a way of calculating profit for people to receive tokens.
DeHR staking will not only focus on staking tokens. It's a series of activities such as uploading Resume, referring people to the network, certifying jobs to friends, writing reviews or recommending jobs to your network. All of those actions DeHR calls Connect To Earn. Earn by the way you stake your resume, stake referral, stake connections from there to be rewarded by tokens.
Besides, DeHR will certainly have a DeHR token staking mechanism like other parties, but it will have a membership token meaning. When staking more DeHR tokens, the earning mechanism will be improved, hence DeHR calls this Unique staking program.
Part 3: 5 random questions from viewers
In the end of the program, there were many interesting questions from the CRVN community. Some questions have been specifically and thoroughly answered by Alex Vu, he gives the community the clearest view of the DeHR platform. For example, the question came from a telegram account named "VuongHieuNghia", he raised issues about how to verify the identity of job seekers, and the criteria for classifying the profile of a potential candidate. Mr. Alex Vu responded as follows:
" DeHR requires KYC and registration as an entry step. In addition, the records on DeHR will be cross-validated by the community in accordance with the current mechanism of Linkedin. In the long-term and medium-term, it is due to the cross-verified feature. However, one profile needs a network of 50-100 or 1000 people to verify, then 51% will be correct. Besides, DeHR will not only connect full-time job opportunities but also develop freelancer & remote working. With the way DeHR is expanding into the world, there will be more job opportunities for everyone who can work online, remotely or part-time. In addition, DeHR will digitize the entire hiring process, interviewing and even checking references of candidates through the hiring dashboard."
Through this AMA, CRVN and DeHR want to convey to the community that Blockchain and Crypto technology is not only limited to cryptocurrencies, but also has practical applications and brings great value to many industries. and different fields. DeHR has shortened the gap between Crypto and the traditional economy, this will be an inspiration for Vietnamese businesses to enter the Crypto space. Hopefully, in the not too distant future with outstanding technological innovations, and the dedication of the team behind the project, DeHR will become one of Vietnam's new leaders in the field of Human Resources.
HaiProX & Ivy Nguyen (Cryptoleakvn)