What is Heroes TD? Learn about a new blockchain game project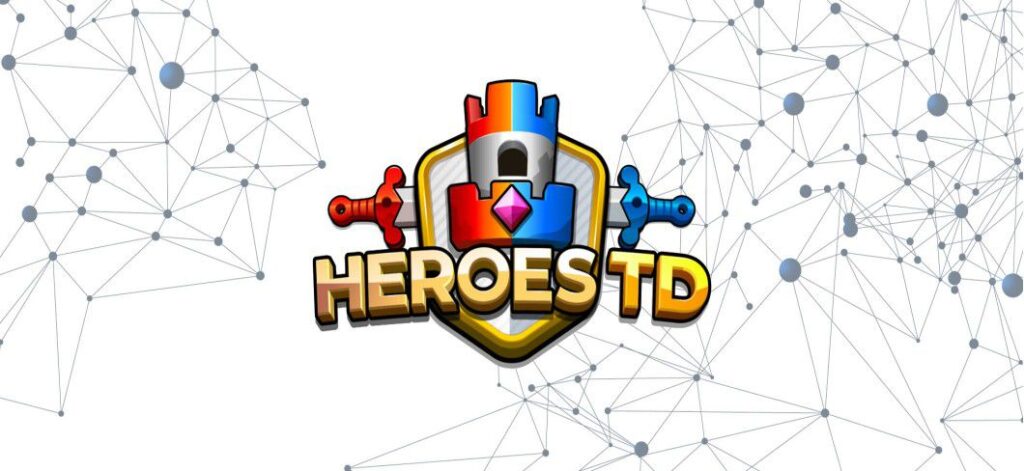 What is Heroes TD?
Heroes TD is a blockchain-based Play to Earn game, where players summon Heroes to attack enemy bases and defend their bases.
This is a collectible tower defense strategy game with a brand new play style. You can collect and build your deck to win. You can both enjoy the game and earn money from it as well. In Heroes TD, players can join a community to play with each other. Players can also create new unique NFT content and trade them with other players to get real money, and most importantly, have a lot of fun!
Gameplay
How to play
In Heroes TD, each player is given a starter deck of 5 Basic Heroes. Players can use this starter deck to participate in PvP Arena and battle with other players to earn CGC.
In each game, there are multiple rounds. On each round, multiple waves of the enemy's heroes will be teleported to a track leading to the player's base. At the same time, there will be also waves of the player's heroes teleported to the enemy's track to attack the enemy's base. When an enemy's hero reaches the player's base, he will lose one point. If the player loses 3 points, he will lose the match. The same applies to the enemy as well.
The Boss wave will occur after a specified number of troop waves. During this Boss wave, a bigger hero will appear with significantly higher stats and special skills.
To defend his base, the player will have to spend energy to summon a hero. At the beginning of the game, the player will start with 100 points of energy. Players can also merge 2 identical heroes of the same stars to summon a random hero with higher stars.
Heroes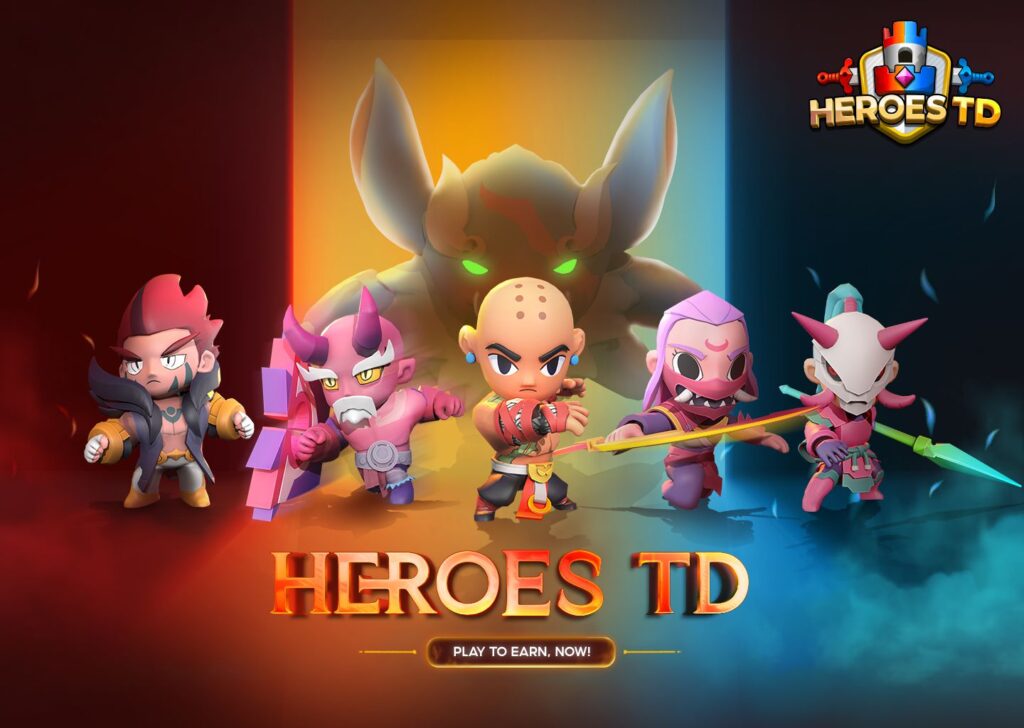 Heroes are the main playable assets of the game. They also are the primary battle power of each player. Each Hero is born with a different set of attributes, which determine his abilities. Depending on the combination, the Hero's stats will differ.
Items & Runes
Each hero can bring up to 3 Items and 3 Runes when they are summoned. These Items and Runes will not be able to be removed or changed during all their lives. Each Item and Rune have different stats improvements and effects. Some Items have higher grades than others.
Battle Modes
Heroes TD is a tower defense game using 5 Heroes deck. Players can customize their decks to best fit the Battle they are going to participate.In each mode, there will be specific rule in which players have to follow to be the winner. There are also special rewards for players who achieved a high ranking in the leaderboard as well.
There are 4 Battle modes:
PvP Arena
Co-op Mode
Challenge Mode
Tournament Mode
Daily Quests
Quest Name
Missions

Rewards
Login and Play
Login into the Game
Win 5 PvP Arena
Play 5 Co-op
Win 10 Campaigns
100 CGC
Be a Challenger

Win 2 Challenge matches Win
1 Tournament matches

150 CGC
The Challenge Destroyer
Win 5 Challenge matches Win
3 Tournament matches
200 CGC
Summoning Heroes
In Heroes TD, players can summon new NFT Heroes using 2 NFT Heroes. Some CGC and HTD will be consumed in the process.
Warlord & Commander System
In the Warlord & Commander System, players can become a Warlord by putting their heroes into different decks in different sub-accounts, and recruit Commanders to put them into battle, while paying the Commanders a fee.
Economy
HTD and CGC are the main tokens used for all ingame activities and the Marketplace. Players can make use of HTD and CGC to further improve their decks, participate in high-level games, and become the best player.
HTD Token
HTD is a specialized DeFi token for Heroes TD. HTD tokens can be used to participate ingame activities and purchase assets on the Marketplace. HTD has one special use which makes it a must-have for Heroes TD – summoning new Heroes. HTD can be earned via ingame Play-to-earn activities.
Tokenomic
In Heroes TD, we believe the game is owned by the community.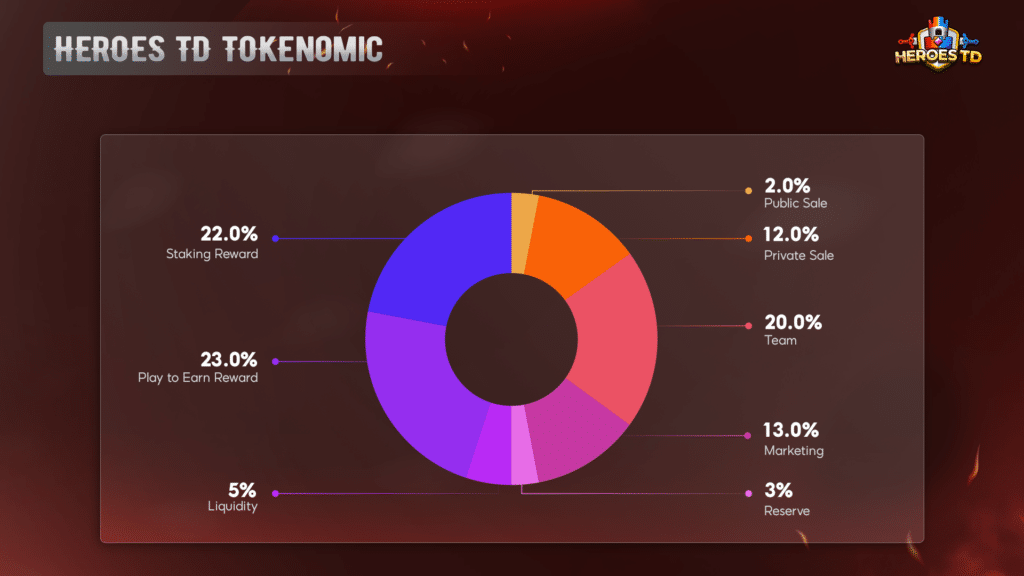 CGC Token
CGC is another token to be used for game activities and on Marketplace. CGC can be earned through most ingame activities. Heroes TD will not sell CGC directly nor provide liquidity for CGC.
DApp
Staking & Farming
Voting System
Marketplace
Roadmap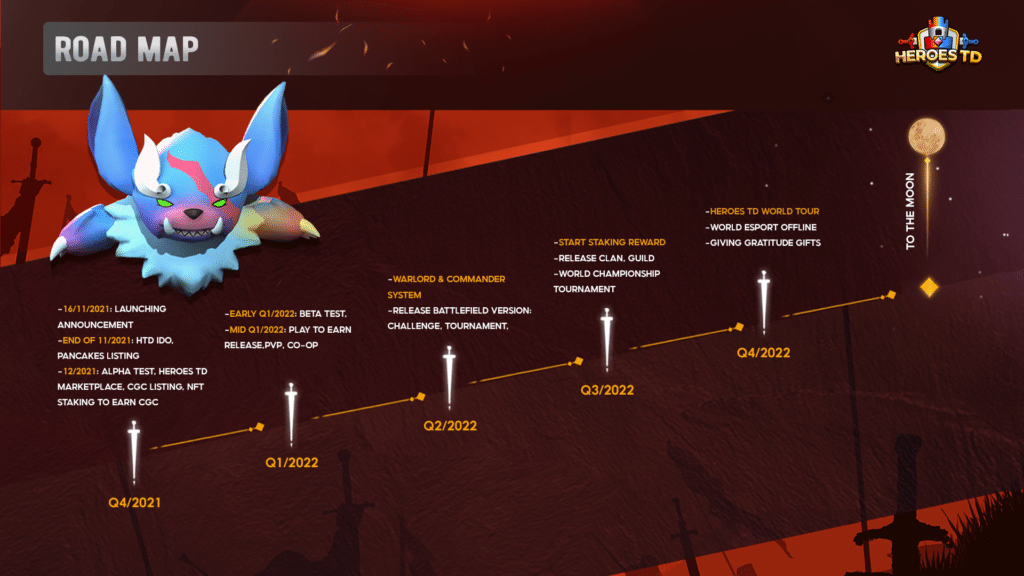 Core team
CG Studio team consists of a board of outstanding and experienced members, who have been working in developing mobile games and Blockchain technology for a long time. The team was founded in 2013 as VGames, developed many games for cross platforms, i.e: Android, iOS, Winphone, Html5, etc.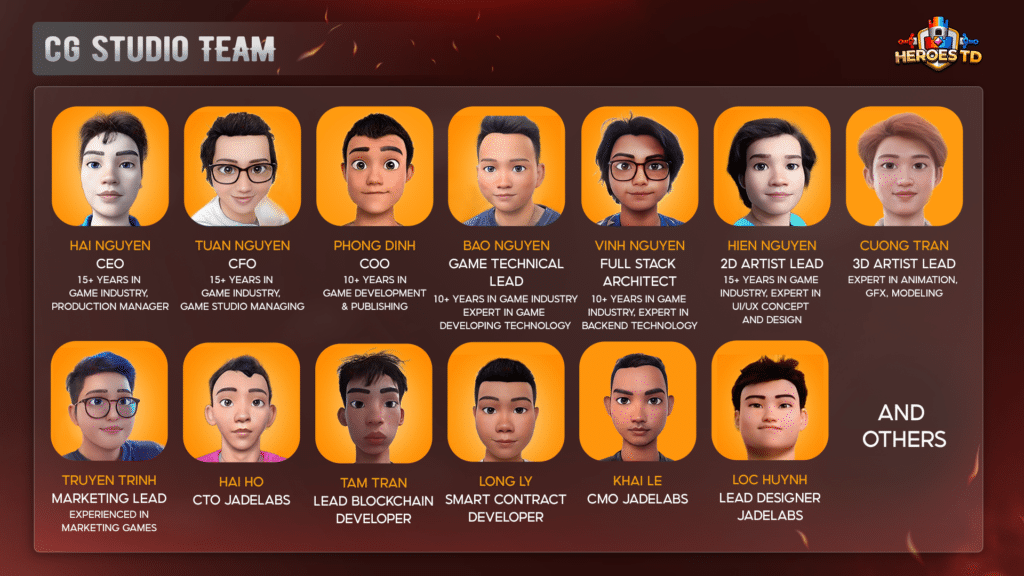 Investors & Partners
More information about Heroes TD
Website: https://heroestd.io/
Whitepaper: https://docs.heroestd.io/