What is Mytheria? Learn about NFT Trading Card Game
Project Introduction
Mytheria has created a very unique mythological universe, where the gods and demigods of Northern Europe, Greece, Egypt, China, Vietnam… appear together, fighting for honor and glory. With the storyline inspired by myths, Mytheria promises to create a world rich in color, close but also full of surprises, attraction, exploiting unknown elements in myths that enthrall the players. In the Mytherian universe, for the first time, gods from different cultures were able to interact, encounter and fight in epic battles. The myths of the countries are intertwined and lively interference.
Create-and-earn from your items

Mytheria is the first pioneering NFT game offering an exclusive Create-To-Earn community for artists including you, with an name of artist community: GODFORGE:

GODFORGE is an exclusive community where you could freely display your artworks or even create your own characters.
You could earn attractive incomes because your artworks could be traded and auctioned.
Your artwork could be selected to incorporate in the game universe through a voting system.
Unique features
Free to earn: With no barrier to entry, there's nothing to stop you and your friends from joining and playing the game
Own, Trade and Auction: re secured on the block chain. Collect rare cards, build your deck and trade it on the market with community members.
Create new Gods: Bring in your mythologies and cultures by creating your own Gods. Do you have what it takes to create a God that is fun to play, loved by everyone in the world, and profitable? Join GodForge and submit your artwork.
Champion based Card game: Gameplay is simple but you have to decide your own strategy in each battle: Combine Gods from other Pantheons, alter position of Gods and Mortals to be the Winner.
Game Modes
PVE: Upgrade your Gods and conquer infinite challenges. The higher rank you climb, the bigger reward you get.
PVP: Competitive Mode where you test your alliance deck & strategical skills against global players. Earn MYRA by staying at the top of each Season.
Battle royale: Chaotic fun against other 7 players. Be the last one standing and claim all the bounty.
E-Sport: Best players in each region will participate in Mytheria's global tournaments, with a crowdfunded prize tool.
Tokenomic
Symbol: $MYRA
$MYRA is also the native currency in the game. $MYRA is designed to encourage as well as maximize player-game interaction.
$MYRA has a total supply of 200,000,000 tokens issued in 5 years:
Roadmap
Partners & Investors
Mytheria's Partners and Investors is relatively few as the project is so new.
Team
The founding team has members with experience in games and blockchain.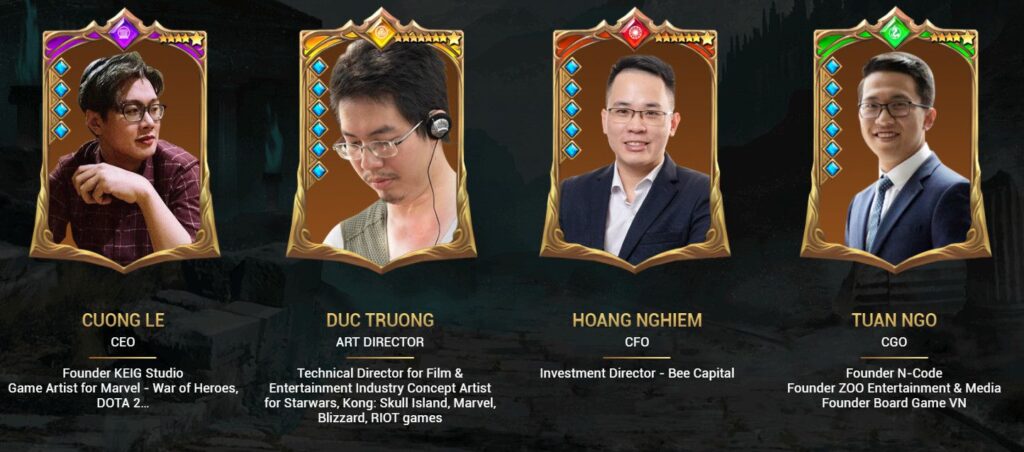 In particular, the position of CEO of Mr. Le Manh Cuong should be highlighted. He is very famous in the world of game illustrators, due to his participation in many big game projects around the world. He has ample experience in international game projects with famous titles such as Marvel and DOTA 2, in both illustration and game design.